We're cutting
the cr*p
We took the humble nappy and redesigned it from the inside out. Creating a super soft upgrade with unrivalled absorbency, next-level liquid capacity and no nasty chemicals, dyes or fragrances. Because your baby's peachy little bottom deserves the best.
Behind the nappy
It's what's inside (the nappy) that counts. That's why we've focused on 4 key areas to create a nappy that works even harder day and night, with absolutely no added nasties.
Absorbency
Our absorbent core soaks up liquid 3x times faster and has 70% more capacity. That means your baby stays dry and comfortable for longer. At least wet nappies won't be what keeps you up at night.
Softness
Hypoallergenic nappies as soft as a peach. Our quilted, high-loft backsheet is super breathable and pillowy to provide your little one with a nappy that will keep them feeling comfortable day and night.
Less Leaks
What goes in, stays in. We want to keep it that way! That's why we went the extra mile to make the back of the nappy sit higher on baby, our waistband fasteners super sticky, and the leg cuffs even softer and wider, to better hug peachy bums and keep all the mess locked up inside.
No Nasties
No Chlorine
No Latex
No Fragrances
No Dyes
No Phthalates
No TBT
No Parabens
No DBT
No Lotions
No MBT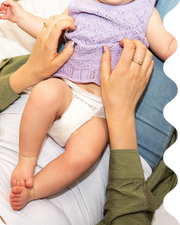 0%
Chose and recommend Peachies in a blind test.
0x
Less leakages during
day and night.
0%
Less CO2 emissions
proven by Climate KIC.
Certified 'excellent' on sensitive skin.
We're only as good as the most sensitive bottom. That's why we put our nappies through rigorous testing, to ensure they're wonderfully gentle on your little one's behind. If you want to know more - you can read all about our results and Dermatest's testing methods here.
Our ecosystem of experts
We're advised by an independent team of leading engineers, industry experts and designers to create our nappy.
Designed with the planet in mind
The European Union's climate innovation organisation (Climate KIC) verified that Peachies saves up to 93 tonnes of CO2eq emissions every year per 1,000 babies. That's like driving around the world 12 times.
Or filling up 17 hot air balloons.
Read more
Our approach is practical, eco-conscious design. We give you the best nappy while your little one needs them so that you're changing less in a day, week, month or year. Less changes plus our ambition to get babies out of nappies ASAP is how we'll send less to landfill.
But, nappies need to do the job. We use a blend of the most innovative, eco-friendly and skin-friendly materials. And we're transparent about our ingredients so you can make the best decisions for you and your little one.
The nappies' absorbent core is made of plant based polylactic acid (PLA) and sodium polyacrylate (SAP).
Our SAP is plastic-based, but we use a 20% more efficient material so we're using less per nappy without sacrificing on absorption capacity and reducing the nappy's overall weight.
The fluff pulp in the core is Totally Chlorine Free (TCF) and comes from 100% sustainably managed forests.
There are no artificial fragrance, phthalates, parabens, lotions, dyes, latex or volatile organic compounds.
Our nappies are certified 'Excellent' on sensitive skin.
The Peachies Promise is our commitment to product excellence, transparency and making your life easier each and every nappy change.
Size

01

Size

02

Size

03

Size

04

Size

05

Size

06